ALTFIELD LONDON
We are a family run company that has been designing, making and distributing fine furnishings and decorative accessories since 1982. Initially established under the name De Leche Et Cie by Amanda and Jeremy & Nette Lack, Amanda's brother and sister in law , we specialised in needle point cushions, distributing out of a small warehouse space in Westbury in Wiltshire.
Following the success of the needle point cushions, in particular the signature 'redoute' flower collection, over the next few years, we expanded into porcelain, lighting, Japanese Screens, Chinoiserie wallpaper panels, hand carved water gilded mirrors and then Antique Chinese Furniture, where we have become a leading dealer, specialising in 18th & 19th Century Ming style furniture from China's regions.
We have an unrivaled network of contacts in China as one would expect after nearly 30 years of business in the field. All our furniture is refinished and restored by our European trained craftsmen. Our range of lighting, artwork and decorative accessories are handmade from the finest materials.
William Lack, Amanda's brother, officially joined the company in 1992, Growing up in Hong Kong left William with a huge love of Chinese and China Trade decorative arts and the possibilities of combining them with the modern design aesthetic. William had previously worked for bank in London. He had been sent by the bank on 3 week Outward Bound training course in January when in the middle of a blizzard on a fell in the Lake District came the life changing decision to change careers.
The next couple of years saw us exhibiting almost continuously at the major UK trade shows including the now defunct Living Design London in the March of 1993, which allowed us to meet and get to know Ian Thompson the organiser of Decorex and after his and his committee's careful vetting allowed us to show at the 1993 Decorex for the first time! Where we were regular fixture for several years. 
At all these shows we encountered almost constantly the question where are you based and do you have a showroom in London. At this stage Chelsea Harbour was just developing and after a year of contemplation and seeing the Centre develop and reach a critical mass a small showroom space at the Design Centre became available and we decided to take the opportunity it presented to us.
The opening of our first showroom on the ground floor of the Design Centre in 1995 coincided with our move into the distribution of overseas fabric and wallcovering lines into the UK market. Our very first fabric line was Scalamandre who loved our stand at a previous Decorex so much they asked if we would be interested in representing them.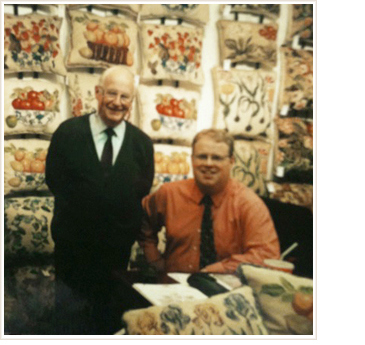 Alan and William Lack, Maison & Objet 1995
In addition to our developing existing grasscloth & metal leaf collection (6 colours of which are still current today!) we soon started distributing the handprinted wallpapers of van Schelle and Gurland.
The next year in 1996 we opened a second showroom in a larger space on the Second floor soon after the installation of the stairs in the middle dome, and we added a number of new lines the wallcovering brands; including Maya Romanoff, and Blumenthal all of which worked beautifully with our furniture and accessories to create the familiar Altfield look, making the second floor Altfield showroom unique in Chelsea Harbour a modern day Asian emporium for beautiful furniture , artwork and decorative accessories.
Since then we have continued to develop and adapt to changes in the tastes and styles in the interior design world but always remaining true to the commitment to offer the very best available in all that we do.
Now recognised as a leading resource for beautiful Textiles, Wallcoverings and Leather, we distribute a number of the world's best high end lines. In addition we also produce our own collections of Wallcovering, Fabric and Faux leathers which compliment perfectly the brands we represent. Our products and brands are the perfect blend for high end residential and commercial interiors.
No matter what the product, we pride ourselves on both the quality of our products and the level of service we offer to our clients.